With 360 days of sunshine a year, the soft, golden sand beaches of Puerto Vallarta are worth a visit at any time of year.  As recently as July 1, 2023, some of the most beautiful gems along the coast have been awarded the prestigious Blue Flag.  This international eco-label is awarded to beaches that meet strict environmental and safety standards.
Let's explore 3 Blue Flag beaches in Puerto Vallarta that promise to provide a delightful and sustainable beach experience for everyone.
CAMARONES BEACH
A favorite of locals and tourists alike, Camarones Beach is located between the North Hotel Zone and DowntownPuerto Vallarta.  The beach's excellent water quality, safety measures, and environmental protection have earned it Blue Flag status.  It is an ideal place for swimming and sunbathing due to its golden sand and clear water.  In addition, its proximity to several beach clubs, restaurants, bars and tourist attractions adds to its charm.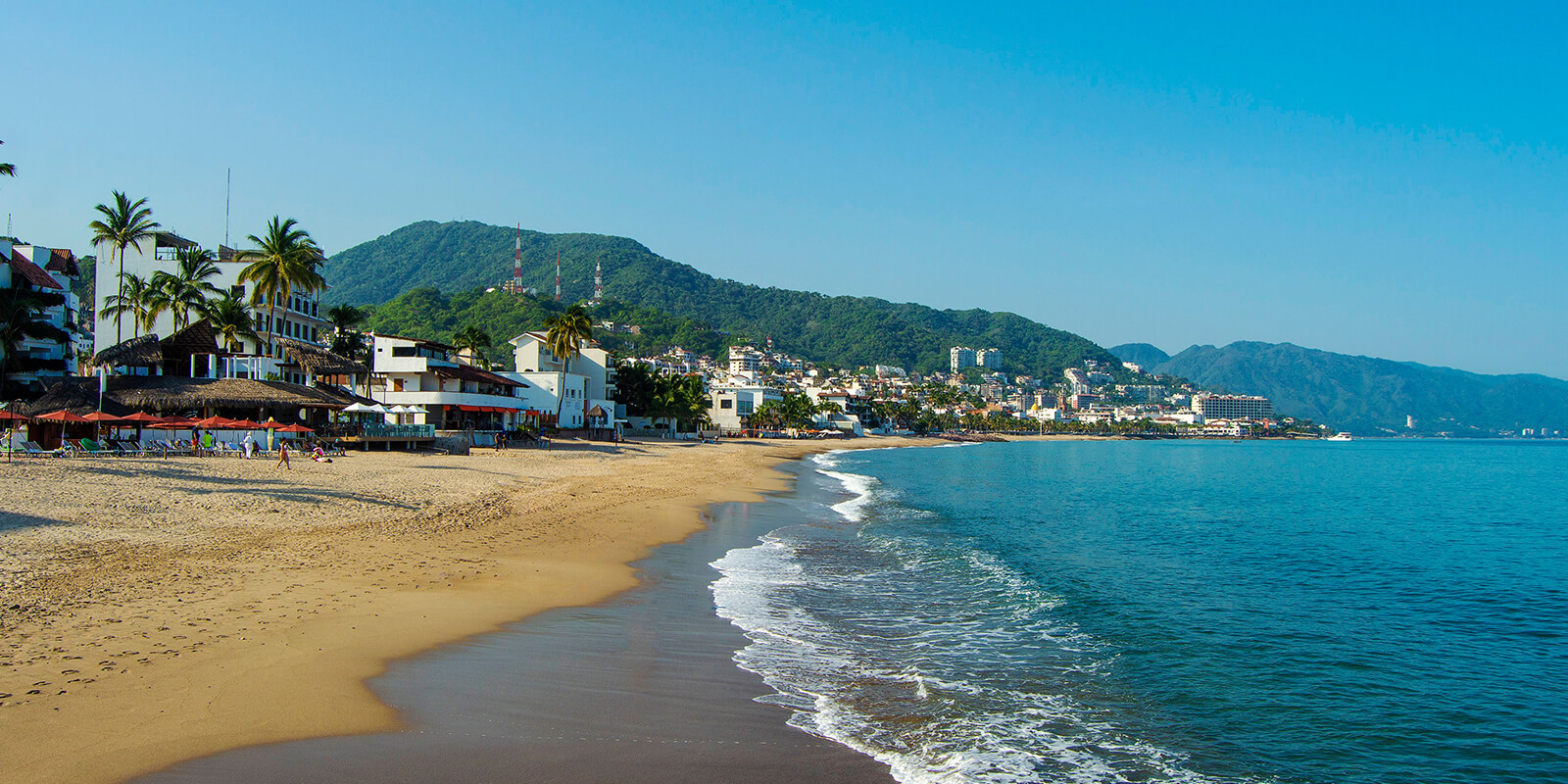 PALMARES BEACH
Another Blue Flag gem, Palmares Beach is located south of Puerto Vallarta, on the road to Boca de Tomatlán and very close to Mismaloya.  Perfect for those seeking a peaceful escape, this tranquil beach boasts a serene atmosphere away from the hustle and bustle.  The waters here are calm, making it safe to swim and snorkel.  For a picturesque end to your day at the beach, Palmares Beach also offers mesmerizing sunsets.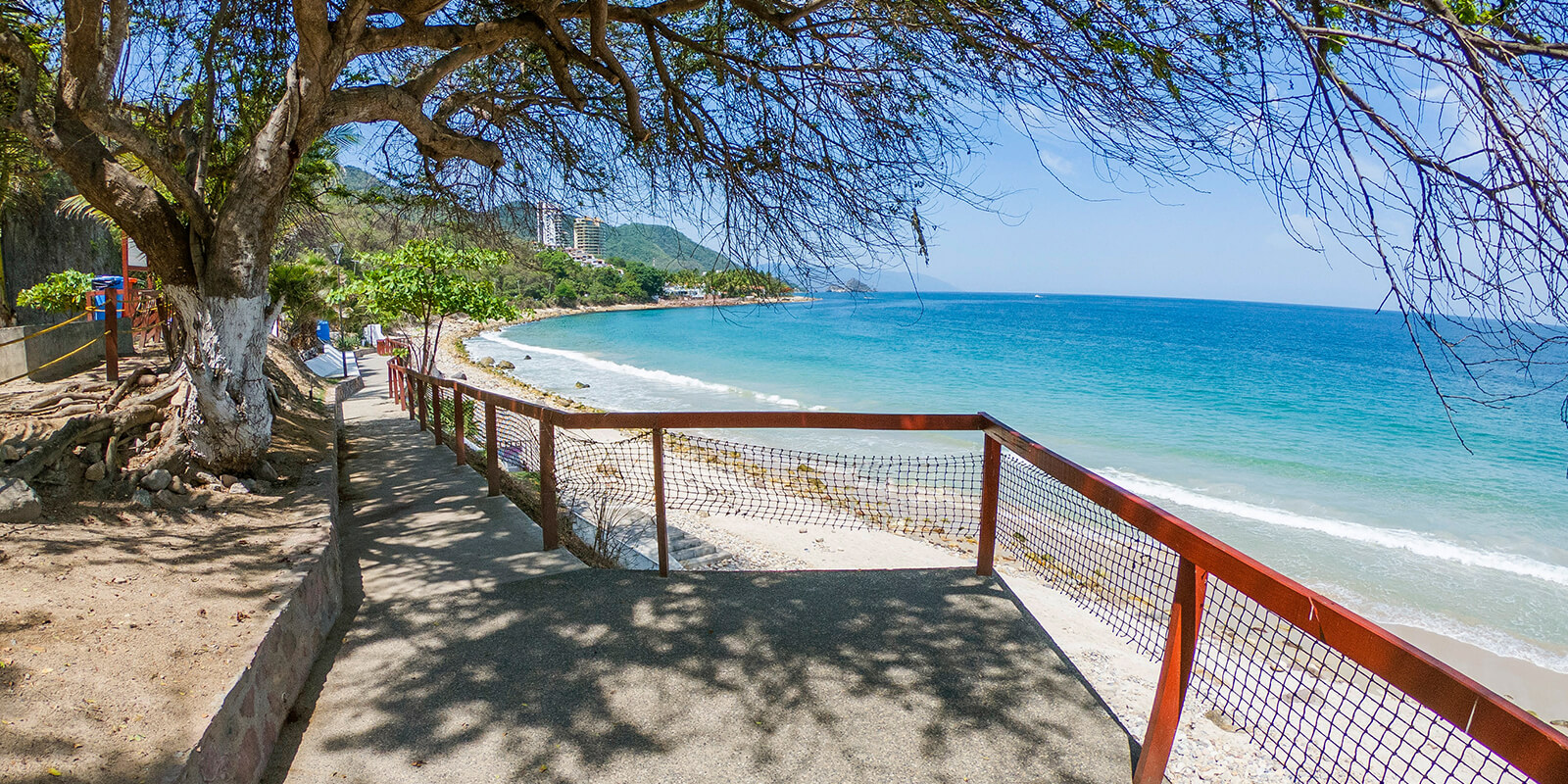 PLAYA DE ORO BEACH
Playa de Oro Beach, with its soft sands and gentle waves, is located in the heart of the North Hotel Zone and offers a family-friendly environment.  Suitable for families with children, the Blue Flag certification ensures that the beach adheres to strict cleanliness and safety guidelines.  Visitors to the beach can enjoy water sports, play beach volleyball, or simply bask in the warm sun while taking in the stunning views.
Some of Puerto Vallarta's luxury resorts have earned the coveted Blue Flag status for their beach areas, in addition to the public beaches.  Prime examples of such properties are the Sheraton Buganvilias Resort, the Marriott Puerto Vallarta, and the Westin Puerto Vallarta.  Guests staying at these resorts enjoy exclusive access to clean, well-maintained beaches.  They also enjoy first-class amenities and services.
SWHY CHOOSE A BLUE FLAG BEACH?
Puerto Vallarta's Blue Flag beaches, including Camarones, Palmares, Playa de Oro, and the beaches at the Sheraton Buganvilias Resort, Marriott Puerto Vallarta, and The Westin Puerto Vallarta, offer a delightful combination of beauty, safety, and environmental awareness.
ENVIRONMENTAL CONSERVATION 
To preserve Puerto Vallarta's natural beauty for future generations, Blue Flag beaches prioritize sustainable practices such as recycling, waste reduction and marine conservation.
WATER QUALITY AND SAFETY
Blue Flag Certification guarantees that the water is safe to swim in, providing visitors with a worry-free beach experience.
CLEANLINESS
Offering pristine sands and well-maintained facilities for beachgoers to enjoy, these beaches adhere to strict cleanliness standards.
Source: www.visitpuertovallarta.com